Wednesday, February 24, 2021 / by Darcy Watts


Years ago we had an event at our Keller Williams Atlanta Midtown office. A woman who was big into natural oils brought Lemon Sugar Cookies. I personally have never given much thought to lemon desserts aside from the lemon pie at Chick-Fil-A, but these cookies, I thought about for YEARS! I only ate one at the time but they haunted me. My teammate Donna and I actually talked about them every so often. They are that good. I love the soft buttery goodness, the refreshing lemon burst.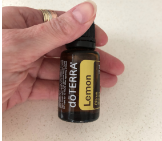 The oil gives the cookie a more pure lemon flavor as opposed to the extract which overwhelms the flavor with alcohol. So I finally went online, ordered my Lemon oil, and impatiently waited the two days it took for it to arrive. I was not disappointed! The cookies lived up to the memory for me. I hope you enjoy them as much as I do!
Fun fact: Cream of Tartar prevents the sugar from crystallizing and makes the cookie soft and chewy. I have not tried this in my chocolate chip cookies yet, but I plan to next time I bake some. If you have done this please let me know how they came out!
LEMON SUGAR COOKIES
· 1 cup unsalted butter - (2 sticks), softened
· 1 1/4 cup granulated sugar
· 2 lemons zest
· 2 tsp vanilla extract
· 1/4 tsp lemon oil
· 1 tbsp milk
· 3 egg yolks
· 2 2/3 cup all-purpose flour
· 1 tsp baking soda
· 1/2 tsp cream of tartar
· 1/2 tsp salt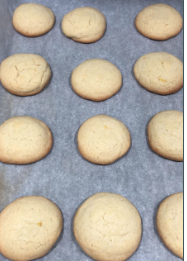 Preheat oven to 350 degrees. Line a baking sheet with parchment paper or silicone baking mats, set aside.
In a large mixing bowl beat butter until smooth and creamy, about 1 minute on medium speed. Add the sugar and lemon zest, beat on medium speed for 2-3 minutes or until slightly fluffy.
Add the vanilla extract, lemon oil (or extract), milk, then one egg. Mix on low until combined, add remaining eggs one at a time, mixing well after each addition.
In a medium mixing bowl, whisk together the flour, baking soda, cream of tartar, and salt. Gradually pour the dry ingredients into the wet ingredients. Mix until a thick dough forms.
Using a standard size cookie scoop (#40 or 1.5 tablespoons), scoop to form balls. Roll in hands to smooth or place directly on the prepared baking sheet.
Place in the oven and bake for 11-12 minutes. Cookies will look soft but will be fully cooked. Remove from the oven and allow cookies to cool on the sheet for 3 minutes before transferring to a wire rack to cool completely.