Monday, December 23, 2019 / by Stacy Wilson
Ahern Homemade Apple Pie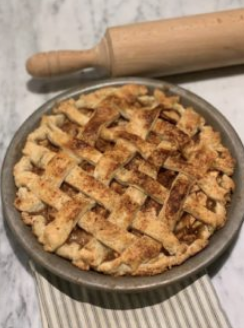 *Photo: Pam Ahern's pie. Made with love.
The pie filling recipe came from my mother-in-law, Patty Gordon. The pie crust recipe came from Southern Baked: Celebrating Life with Pie by Amanda Dalton Wilbanks.
INGREDIENTS for pie filling
6-8 apples, sliced thin
¼ c all-purpose flour
½ c + 1 t brown sugar
½ t + sprinkle nutmeg
½ t + sprinkle cinnamon
1 t lemon juice
Few pats of butter
INGREDIENTS for pie crust
THIS IS A DOUBLED RECIPE (you will need two crusts)
16 T (2 sticks) unsalted butter
2 ½ c all-purpose flour
1 t salt
1 t sugar
½ c ice cold water
DIRECTIONS
Crust
Cut the butter into small cubes. Combine butter and flour in missing bowl. Using a pastry blender, work the butter into the flour. Add the salt and sugar. Continue to work the butter into the flour until the mixture has the consistency of course-ground cornmeal. The cubes of butter should now be smaller than the size of a green pea.
Add the water, all at once. Continue to work the dough until dough begins to come together. For the dough into a ball, wrap with plastic wrap, and press into the shape of a disk. Place in the refrigerator for 2 hours to chill.
Remove dough from refrigerator and roll out to desired size on a lightly floured surface (or between t pieces of parchment).
Tip: The trick to making delicious pie dough is using cold ingredients. Chill four, salt, and sugar! Starting with a very cold butter and ice-cold water, will make a world of difference when it comes to the texture of the dough.
Heat oven at 425 degrees
Filling
Peel apples. Slice thin. Place slices in large mixing bowl. Add flour, ½ c of brown sugar, ½ t nutmeg, and ½ t of cinnamon. Mix thoroughly - until you cannot see any flour and the sugar and spices coat all the apple slices. Pour into pan (with crust). Sprinkle nutmeg and cinnamon over the filling. Add a few pats of butter over the filling. Top with other crust. Flute the edges. Cut 4 slits in top of pie. Bake for 40 – 50 minutes or until crust is light brown and juice bubbles through slits.